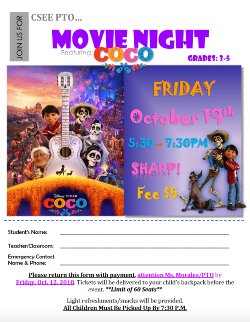 What

PTO Movie Night - Coco

When

10/19/2018, 5:30 PM

–

7:30 PM
The CSEE PTO invites students in Grades 3-5 to join us on Friday, October 19, from 5:30 - 7:30 P.M. for PTO Movie Night to watch Coco.

Seating is limited to 60 seats. To attend, please RSVP with the attached permission slip form and payment of $5.00, attention to Mrs. Morales/PTO by next Friday, October 12. Tickets will be delivered to your child's backpack before the event.

Refreshments/Snacks will be provided. All children must be picked up by 7:30 P.M.